I Have This Thing for Great Aphorisms…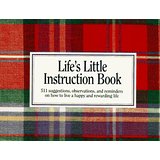 I love aphorisms. Especially the ones that teach or reinforce what's vital in my own business or personal life. I can't always get my mind and attention around a book, whitepaper, report, guide or blog post. There is usually too much going on to focus for that long.
But I can always appreciate and even bathe mentally in a short, pithy phrase or quote that speaks to my heart and soul. Such as… "Don't waste time learning 'the tricks of the trade' Instead, learn the trade." [See below.]
10 1/2 Million Copies Sold
Twenty five years ago, in what now seems like prehistoric times, there was a wonderful little book written by H. Jackson Brown,  Life's Little Instruction Book.  It's a book of 511 aphorisms on every area of living written by a father for his son who is leaving home for college, perhaps to never again live under the same roof.
I shared many of my personal favorites with my own son on a Southern California hillside on a gray winter Sunday afternoon during a very difficult time in our lives. I now share with you, my friends, 10 of my favorites for use in your own business and personal life.
Best of the Best – My Favorites
#47: Don't waste time learning "the tricks of the trade." Instead, learn the trade.
#55: Stop blaming others. Take responsibility for every area of your life.
#83: In business and in family relationships, remember that the most important thing is trust.
#166: Avoid negative people.
#210: Commit yourself to constant self-improvement.
#235: Be willing to lose a battle in order to win the war.
#266: Beware of a person who has nothing to lose.
#287: Promise big. Deliver big.
#326: Remember that winners do what losers don't want to do.
#497: Don't be called out on strikes. Go down swinging.
Thanks again to H. Jackson Brown. He deserves the acclaim and rewards that have come as a result of selling more than 10 million copies of this wonderful book since it was first published.
More SalesLinks below to aphorisms or quotes on life, personal development (your operating system) and most everything else, especially your business.
Some Related Links
Think Exist  – Finding wisdom was never this easy.
Forbes   — Tips & Quotes from 62 Sales Experts
Wisdom from The Road Less Travelled — Great Wisdom quotes from Scott Peck's The Road Less Travelled  including the infamous…
"Life is difficult. This is a great truth, one of the greatest truths. It is a great truth because once we truly see this truth, we transcend it. Once we truly know that life is difficult – once we truly understand and accept it – then life is no longer difficult. Because once it is accepted, the fact that life is difficult no longer matters."
Until next time, remember to BE GOOD to everyone, and be of amazing value to your customers and everyone else you deal with in your business.  Have great success marketing AND selling and have some fun along the way. It makes things so much easier.